Jurassic World: Dominion Dominates Fandom Wikis - The Loop
Play Sound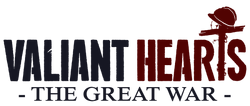 Valiant Hearts: The Great War is a 2D side-scrolling adventure/puzzle game developed by Ubisoft Montpellier. The game is developed within the Ubi-Art Framework engine and follows five characters of different nationalities during their time spent on the battlefields of World War I.
The game was released in 2014 on PlayStation 4, Xbox One, PlayStation 3, Xbox 360, iOS, Android, and PC. The game was released for the Nintendo Switch on November 8, 2018.[1]
In addition to the game itself, the iOS and Android versions of the game feature an interactive comic Valiant Hearts: Dogs of War.
Synopsis
[
]
Valiant Hearts follows five characters that are drawn together by one common cause: reunite a young German soldier with his lost love. Taking place between 1914 and 1918 during the outbreak of World War I, the characters must make their way across the war-torn battlefields. Each character can solve a different set of puzzles, such as Emile using a bone as a makeshift lever, and Freddie using wire-cutters to bypass dangerous obstacles.
The game's art style resembles a hand-drawn, comic book style. With exaggerated character designs to create a contrast to the war-torn environments.
Player Characters
[
]
Emile - A French farmer who (After being drafted into the French army) becomes a POW (Prisoner of War). After being saved (By Freddie) begins to search for his Son-In-Law Karl.
Freddie - An American volunteer fighting in the war to avenge his fallen wife after Baron Von Dorf's regiment had killed her in a bombing.
Anna - A Belgian nurse searching for her father after being kidnapped by Baron Von Dorf.
Karl - A German who married to Emileʻs Daughter Marie.
Walt - A Doberman pinscher, a German medic's dog who interacts with each of the characters during their adventures.

In-Game Achievements
[
]
The game has 20 game achievements that can be fulfilled during gameplay. 10 of these achievements are automatically met over the course of regular gameplay. The remaining 10 goals require additional actions from the player.
Reception
[
]
Valiant Hearts: The Great War received "generally favorable reviews", according to review aggregator Metacritic, scoring the game 79/100 for PC[2], 77/100 for PS4[3], and 81/100 for Xbox One versions.[4] GamesRadar called the game's narrative moving and compelling, [5] while the community on Slant praised striking artistic style and agreed that the game offered simple, but satisfying puzzles.[6]
References
[
]
Gallery
[
]
Videos
[
]
<tabber>
Trailers
[
]
<gallery hideaddbutton="true"> File:Valiant Hearts The Great War - Announcement Trailer|Announcement Trailer File:Valiant Hearts The Great War (VG) (2014) - Gameplay trailer, PC, PlayStation 3, Xbox 360, Xbox One|Gameplay Trailer File:Valiant Hearts The Great War - Come Back Trailer|Come Back Trail |-|
Walkthroughs
[
]