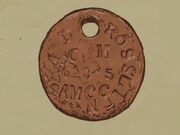 The
British Identitication Tag (1915)
is a
historical item
 which can be found by 
Emile
 in Vauquois' mines during Chapter 3.
When you return to the mines for the second time, go down the first ladder then head right and down the second ladder. Go over the lift on the right then dig out the loose dirt to reveal this item.
Description
Edit
"The British changed their dog tags in the course of the conflict. At the start of the war, soldiers were issued with a single aluminium disc, but because of the huge numbers of volunteers, producers and engravers could not keep pace with demand. The aluminium discs were replaced by red vulcanised asbestos fibre discs. In 1916 the war office requested the addition of a second disc to cope with the problem of unidentified corpses."
Community content is available under
CC-BY-SA
unless otherwise noted.